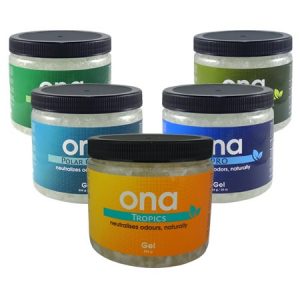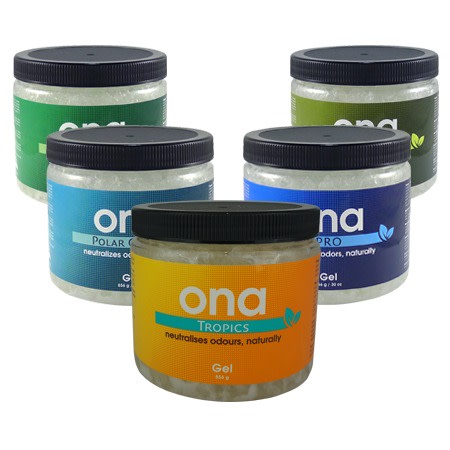 Odor neutralizing agents play a vital role when it comes to an indoor weed growing. It is important that you will be able to control the odor of your cannabis, most especially if you are not living alone or if you are in a huge neighborhood. The ONA gel is a true and effective odor neutralizer. It destroys molecules that cause a bad and foul odor that is present in the air. Since it is powerful and practical, ONA Gel is a best seller when it comes to hydroponics and indoor gardeners. It permanently eliminates any airborne odors, cleanly and effectively and is environmentally friendly, non-toxic and easy-to-use.
The ONA Gel is a complex mix of potent essential oils, suspended in a polymer gel. The essential oils are organically derived from plants throughout the world, non-toxic and environmentally friendly. The ONA gel odor neutralizing agents are released in a controlled manner so that every drop of this excellent product is fully optimized.
The science of ONA: How ONA gel works
ONA gel is made with an essential oil based technology. Its base formula makes use of and utilizes 32 essential oils. These essential oils enable the product to neutralize a wide spectrum of odors. Some people say that the more essential oil involved, the better it will work. But with ONA gels, each oil have specific properties and unique capabilities, however, the blending and processing itself are just as important as the oils. The mixing and manufacturing process includes factors. This includes the processing time, the order and temperatures of the oils being added, and, the specific chemical reactions needed to take place during the mixing process. Every factor involved is truly critical.  There are chemical reactions and synergies that occur when making the base formula that took some years to achieve. It was a long time in development but this also resulted in a major benefit.
The science
ONA's complex and brilliant formulation represents a unique terpene compound, a constituent of essential oil, that provides specific characteristics and functionalities.  There are three mechanisms of action that can occur, based on the chemical and physical natures of each terpene and active ingredient versus the organic and inorganic volatile compounds or odors.
Mechanism of action
Adsorption
This is the process where VOC or volatile organic compound molecules are attracted and held on the surface of the adsorbent, the ONA gel, by chemical bonds. In chemistry, adsorption is the adhesion of atoms, ions or molecules from a gas, liquid or dissolved solid to a surface. All VOCs and odor-emitting compounds have a solubility factor in ONA gel active ingredients. This solubility will then allow the VOC compound to solubilize itself in the presence of ONA, relative to the chemistry of emission, temperature, pH, and pressure of the environment.
Absorption
It is the process in which molecules of a substance or the VOC are attracted, absorbed and distributed uniformly within ONA molecules. In chemistry, absorption is a physical or chemical phenomenon or a process in which atoms, molecules or ions enter some bulk phase in liquid or solid material. The active molecules in ONA will come into contact with VOCs or compounds with low molecular weight. These VOCs will then enter and bond with the ONA active ingredients to eliminate odors.
Chemical Reaction – The Paris Theory
The chemical reaction is based on the Pairs Theory by Dutch Scientist, Zwaardemaker. This is the process where two or more odors can cancel each other out when they attract and permanently bond. It involves the permanent bonding of the VOCs and the ONA active ingredients. This mechanism transforms the pollutant into its basic properties. As a result, the unpleasant odor will disappear.
ONA Gel – Neutralizes odor naturally
%CODE1608%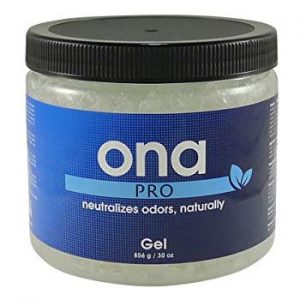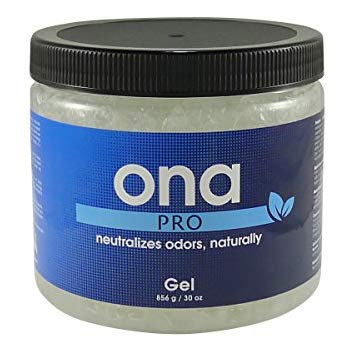 The ONA Gel Pro is the most loved by the traditional weed growers. Most people who do not like having fancy scents around their grow room will surely love the Pro version of ONA gel. This odor neutralizing gel surely takes odor control to a new level. The ONA gel pro truly is as close as close to odorless as ONA has ever come. This gel even leaves nothing, not even a trace behind to indicate that any odors were present.
This fresh linen version of ONA gel boasts a mild smell reminiscent of freshly laundered clothes. Many people also love how this variant gives off a fresh and clean scent in their grow room. This is an odor neutralizing product that has excellent dispersion qualities with an even fresher and greater scent.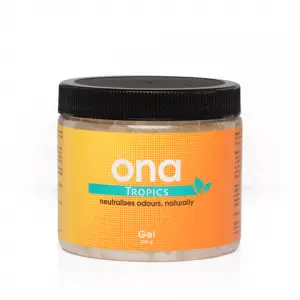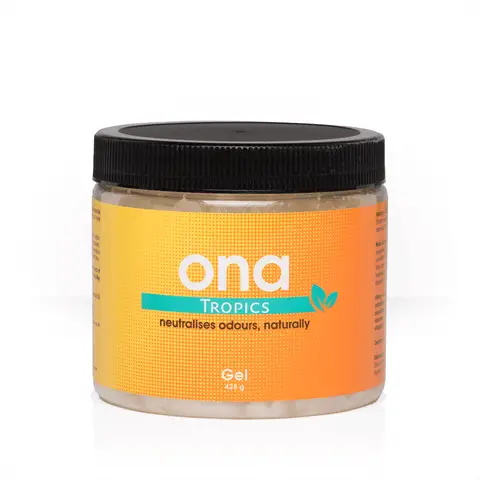 If you are into tropical and island vibes, the ONA gel tropics will be perfect for you! This ONA gel comes with a refreshing new tropical scent to effectively eliminate unwanted odors. The ONA gel tropics will also be great to keep your grow room or tent smelling great, fun with tropical vibes.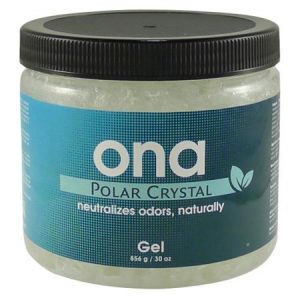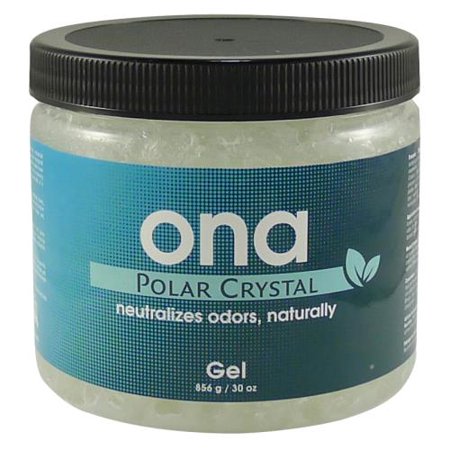 Many users said that the polar crystal version of the ONA gel typically smells nothing but cleanliness. Some also said that it has kind of a fresh scent that is not overwhelming but works really great. The polar crystal is surely a tough one that can also neutralize tough odor.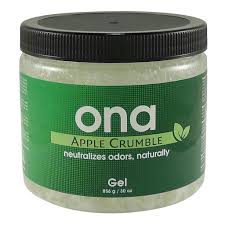 The apple crumble scent is truly a new, refreshing, and exciting scent. Users really love how the fruity and apple-y smell does not overwhelm or mask the odor of a grow room. Despite its very noticeable scent, it is still very efficient in neutralizing odor without overwhelming you with too much apple scent. This is indeed a great scent combination.
How to use ONA gel efficiently
ONA gels are the most popular products of ONA when it comes to practical odor problems and elimination. We assure you that one ONA gel you purchased or will purchase yet will totally work miracles when it comes to odor elimination. And to get the most out of your ONA gel, we are here to bring you tips on how to use it in most effective and efficient manner.
What to do
The simplest and easiest way to use ONA gel is to open and remove the lid. Next is to leave it around the infected area to naturally evaporate and disperse through the air. This will be perfectly fine if you only have one area that needs treatment, however, if there is a large area that needs to be neutralized then you will need a way to disperse the gel further throughout the affected area.
Tips to disperse ONA gel and efficiently use it
To disperse the gel further, the first is to use one of our excellent fan-type dispensers that will greatly increase the distribution of the ONA. The breeze fan is designed to fit on the 1 and 4 liter Gel products, and the ONA Cyclone fan is designed to go on the 20 liter pails. These fans sit snug on the top of the container and have a number of fan settings to suit your needs. Simply switch on and let the fans take care of the rest. You should be aware though that if you are going to be using a fan type dispenser to increase the distribution, this will result in a much quicker rate of consumption and the fan speeds should be regulated accordingly.
Increasing surface area
Another easy and effective way to increase the dispersion of the product is to increase the surface area of the product. This can be effortlessly achieved by splitting the ONA gel into smaller vessels and distributing these throughout the affected area. Once the gel has all evaporated just top the vessels back up with more product. Although, sometimes the problem can be that you are using more ONA Gel than necessary and you need to decrease the amount that is being dispersed. This can be achieved by placing a smaller amount into a container and sealing the rest until the next time it needs to be used. Another way this can be achieved is to drill small holes into the lid of the gel meaning less air contact and less ONA distribution.
ONA story
Source: EasyGrowLtd
The founder of the company, Shane Lander, was a Vancouver firefighter who specialized in hazardous materials such as radiation, explosives, drug labs, and toxic chemicals when he initially became interested in finding a safe and natural method for eliminating the nasty odor these chemicals left behind after a major fire.  ­­­­
"Shane knew that the chemicals most commonly being used at that time to mask, reduce, or eliminate odor emissions, had toxic properties that presented health risks to those people who used them.  After extensive research, he learned about the odor neutralizing capabilities of essential oils which appeared very promising. Soon afterward Shane formed both a personal and business relationship with a chemist who had 25 years of applied scientific research into this technology."
Birth of ONA
"Shane left the fire department and started Odorchem Manufacturing Corp. In the early years the company was focussed solely on industrial applications such as sewage treatment plants, mining, food rendering plants and the janitorial/sanitation markets.  Entering into the Hydroponics market wasn't part of the company's strategic plan. At that time, the market itself was in its infancy and distribution was not as established as it is today. Unknown to Odorchem one of their commercial customers had introduced ONA into the Hydro industry."
Growth of ONA
He kept returning to buy more product until one day he was asked: "who are you selling it to?"  That was their introduction to the industry and since then they have never looked back. Quite simply it was the quality and sheer effectiveness of ONA that got people talking.  Inevitably it became a staple product and grew along with the Industry in North America before becoming popular in other markets such as the UK and Europe. The ONA line has been growing very successfully in the UK and Europe and much of this success can be attributed to the tenacity and hard work of the folks at Easy Grow Horticultural Wholesale in the UK.  They are the master distributor for ONA in these markets and have done an exceptional job of establishing distributors and increasing public awareness for ONA.
ONA and the environment
The compounds that are used in ONA odor neutralizers are of high-grade quality. They are non-toxic, and safe for the environment.  Essential oils used to make ONA are derived from plant materials grown in specific areas around the world. These chosen areas are known for producing the highest quality oils. Recently, essential oils as used in aromatherapy have enjoyed increasing popularity for health and wellness benefits.  As for the environment, essential oils are completely biodegradable. Users and customers can be a hundred percent confident that ONA is safe to use around people, pets, and plants.
Material
The plastic containers and caps, as well as, the cardboard boxes in which ONA is shipped, are all made of recyclable materials. Recycling is a key component of modern waste reduction. It is also the third component of the "Reduce, Reuse, Recycle" waste hierarchy. They are ensuring that the customers can choose to have these used materials recycled into new products and reduce the number of materials going to landfills, reduce the consumption of fresh raw materials from the earth, and, lower greenhouse gas emission as compared to virgin production.
Preventive measures and first aid when using ONA gel
Source: ONA gel – Material Safety Data Sheet
Personal Protection Respiratory Protection: A face mask or respirator is not necessary when this material is being used.
Protective Gloves: Rubber or PVC gloves are not generally necessary.
Eye Protection: Safety glass or goggles are advisory if there is any chance of splashing.
Clothing: Saturated clothing should be replaced with clean dry clothes.
Safety Boots: No special measures spills and disposals stop leak if safe to do so and contain the spill. Absorb into vermiculite, sand, sawdust, or other absorbent material. Sweep up and shovel or collect recoverable product into labeled containers for recycling or salvage. Recycle containers whenever possible. This material may be suitable for approved landfill. Launder all saturated clothing before reuse.
Storage and Transport: No special transportation requirements. This product does not have a UN Classification. Minimize contamination by keeping containers safely and securely closed. 
First Aid
Swallowed: If swallowed, DO NOT INDUCE VOMITING. Rinse mouth with water. Give a glass of water to drink. Contact a doctor or the Poisons Information Center if symptoms of poisoning develop.
Eye: If this product comes into contact with eyes, hold eyes open and wash continuously for 15 minutes with running water. Ensure irrigation under eyelids by occasionally lifting eyelids. Do not attempt to remove contact lenses unless trained. Transport to hospital or doctor immediately if skin irritation develops.
Skin: If this product comes into contact with skin, rinse skin with clean water. Remove saturated clothing and footwear. Always be sure to wash saturated clothing before use. Consult a doctor if irritation develops.
Inhalation: If excessive fumes are inhaled, remove to fresh air. Lay the patient down and keep warm. If breathing is shallow or has stopped, ensure a clear airway; apply resuscitation or oxygen if available and transport to hospital or doctor immediately.
Conclusion
When it comes to odor neutralizing, we are sure that ONA gel is a great choice! Historically odor control products simply masked odors with another scent. Some even utilize toxic substance to effectively, but not safely, neutralize odors. But with ONA gel, we both have safety and effectivity in our hands and homes. ONA continues to provide and create safe and environmentally friendly products. And, it is the main foundation from which Odorchem started. It remains true to the motivating principle behind all the products they produce and create. ONA Gel is Non-Toxic and Environmentally Friendly.  The ONA Gel is industrial strength, yet safe for home or business use. Using this is truly safe around people, pets, and plants. Lastly, ONA gel has been the undisputed and original odor neutralizing agent, serving the hydroponics industry since 1995.