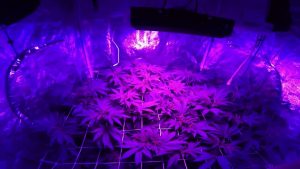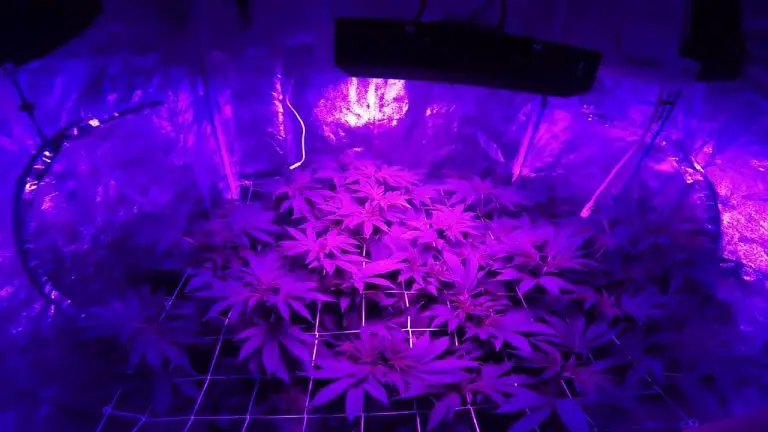 Indoor growing has continually gained so much fame, praise, and use over the years. Many great indoor lighting and growing system have emerged and have been working very well. One of the very best LED grow lights out in the market today is the G8 LED. With the hopes of further improvements, electrical engineers took interest in indoor gardening. They did their best and have made an effort to create something extraordinary. They have created the G8 LED for healthy indoor weed growth,  with high-quality grow lights to provide optimal results from their indoor growing system.
How G8 LED started
G8 LED was created and started by electrical engineers who found interest in indoor growing. They amazingly took advantage of their industry experience to make useful applications when it comes to the science of indoor growing. Their designs have been progressing for over eight years and have undergone numerous repetitions and updates. These efforts were made only to bring out and create a very innovative and efficient indoor grow lighting system that will be able to produce the highest yield possible.
Why choose G8 LED
Over the years, the G8 LED indoor grow lights have been proven to produce the healthy highest cannabis yields. They are carefully thought and made even tested, and certified in the United States. With great and high-quality indoor grow light technology created by experienced electrical engineers, every G8 LED is surely able to give higher yields, healthier, and high-quality cannabis harvests. They will continue to become effective and efficient while helping you save electricity through lesser power consumption. This deserving an award-winning indoor LED grow light boasts and carries the most efficient light spectrum and a dense network of diodes effectively and brilliantly working together to produce an evenly distributed and helpful light for your cannabis plants.
Choosing the right LED grow light
Choosing the perfect LED grow light may very overwhelming and even challenging for some. But if you get to read the right guides and listen to the right people, knowing the perfect grow light for you may be easy breezy. Here are some important points that you may want to know and take note of when choosing the right LED grow light.
G8 LED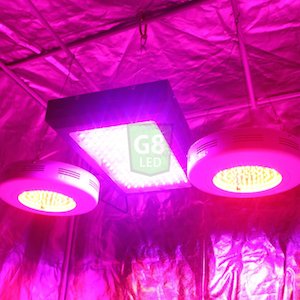 To cater the growers' and customers' preference when it comes to their grow rooms or grow tents, the G8 LED grow lights are made in different sizes and variations. Having a range of choices, they are able to give growers' the flexibility when it comes to indoor growing setup. These LED grow lights have a very unique design that boasts its G8 LED technology in order to produce great yield and high-quality buds while being able to fully operate at low temperatures.
This indoor LED grow light comes with eight built-in fans for easy temperature control while consuming less electricity to save you from the super expensive electricity bills. Having gone through several updates, developments, and iterations and starting with so much input at the early stages of design and growth, eventually, G8 LED was able to create a highly efficient and effective design. That smart G8 LED is very efficient when it comes to producing healthy growth and maximum yields for indoor cannabis growing.
%CODE1810%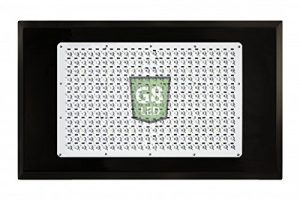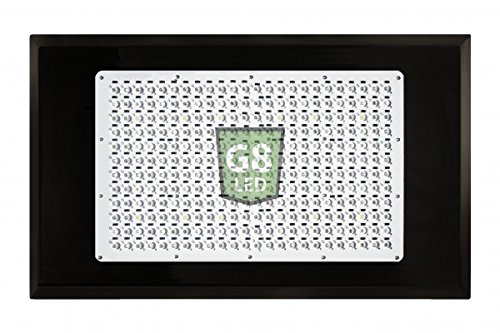 This version is best for all the commercial and pro growers out there. If you have any plans on upgrading or moving into commercial production, then the G8 900 is best for you. This might be expensive but we assure you, this a great investment for every grower out there. The money that you have spent for the G8 900 will surely be worth it and will come back to through reduced electricity consumption and the longevity of being able to use it for years without needing to replace a bulb.
The G8 900 is perfectly made to promote healthy growth during both vegetative and flowering stages. This light is truly made to last and work for a long time, this panel is made durable to avoid failure and burnouts. They don't also encounter many problems even when running for 18 hours. The fans mounted and placed at the top side of the panel do produce hot air but the LEDs still run cooler than the traditional grow lights. Therefore, they will never burn your cannabis plants.
More to love:
This LED indoor grow light measures 20.5 x 14 x 3 inches. It draws 540 Watts and will need 4.6A at 110V or 2.2A at 240V. The G8 900 has no veg/flowering switch. This light uses 8 bands so that each part of the light works very well for the vegetative and flowering stages. Because of this, no light output is put to waste, similar to an enclosed grow cabinet.
During the vegetative cycle, soak your cannabis plants for 18 hours a day. Let them soak up good and magnificent light a day for 4 to 6 weeks. Upon seeing signs of flowering, you can proceed to the next stage. When it comes to the flowering cycle of your cannabis, you can just simply leave the lights on for 12 hours in 2 weeks or even less. The stage of flowering may last for up to 8 weeks. The G8 900 is also capable of covering a quite large area.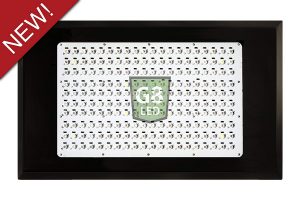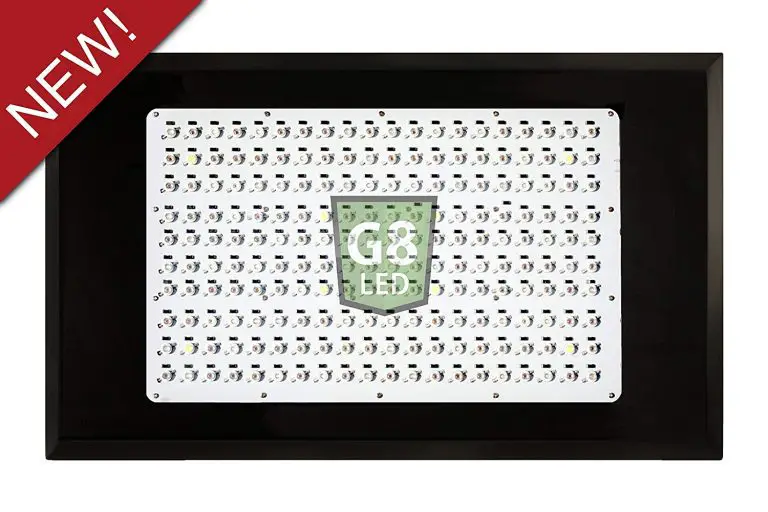 This G8 600 is an 8-band full spectrum light. It includes ultraviolet and infrared wavelengths that can cover a grow area of up to 5' x 4' for flowering, with a canopy penetration rated at 5 foot. This uses 3W LEDs made in the USA, which are densely packed onto the panel for maximum intensity per square inch with a better and even coverage. You can easily replace an 800-1000W HID light, while drawing only an impressive 380W of power. With this grow light, you will be able to grow six up to ten plants, from seedling to maturity.
This unit weighs 21 lbs and measures 21" x 14" x 3".
More to love:
The G8 600 LED grow lights are multiple High Times Magazine STASH Awards winner. Like all other great and awesome LED grow lights, it runs cool. It also has lower maintenance and will be able to help you save electricity compared to HID lights. For the eco-conscious, this grow light is also very eco-friendly. When using this grow light you will also use less water and fertilizer, since there is less evaporation. So, even though the G8 600 is not that cheap, it will be truly worth the price and will help you save in the long run.
This grow light gives excellent intensity and a very even coverage across a large area. It is also very simple to use. Experimenting with the other important variables such as the height of the light, lighting schedule and growing nutrients will truly give you more than enough options to further optimize your growing and maximize your results.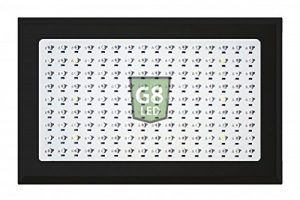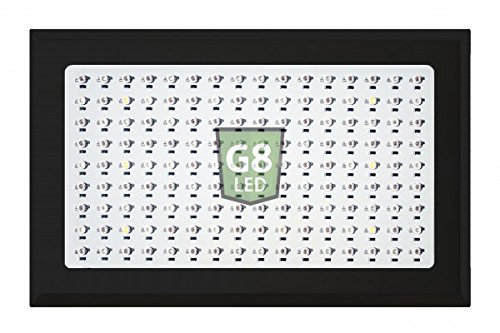 The G8 450 is recommended for those find cannabis growing as a hobby. This LED grow light has the ability to perform on par with any 800 watts HID system.  G8 450 ensures that your plants have enough light needed without any added risks. This small but terrible grow light is perfect for smaller areas, good for a 12 square foot indoor grow space. It uses a grow light system with 8 bands of the color spectrum. This is to effectively provide the right light for different growth stages.
More to love:
When it comes to power saving, this G8 450 is surely like no other. This indoor grow light may only register as a 450 watt LED grow light, but it can easily replace a 1000 watt HPS. Therefore, they work very well while consuming less electricity. This LED grow light only measures 17.5" x 11" x 3". This makes it one of the smallest grow lights in the market today. Because it is a lot smaller than the usual, it is truly able to save more space and making it great for smaller grows. Some growers may find it hard to look for the perfect light for small grows, however, this G8LED 450 watt LED grow light is really perfect for the job!
So if you are trying to grow your weed indoors or in a smaller space, this is the perfect grow light for you! The 450 watts of growing power is more than enough to help you produce healthy and successful grows.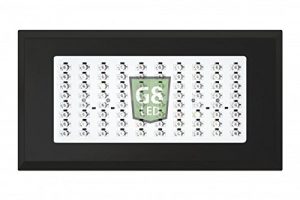 Among the G8 LED grow light series, this is the smallest. The G8 240 is a very small but terrible grow light that is perfect for your every cannabis needs. The small size is tailored in a very fantastic way to suit smaller produce and indoor growing. It can easily fit and light a 6 foot grow tent.
For first-time growers or for those who are still on the experimenting phase, this grow light will be perfect for you. Even with a very small size, it is integrated with fewer light bands. Yet, they are still able to provide an intense light. When it comes to conserving energy, the G8 240 does a really good job too! The 3W single chip LEDs built into this grow light system runs cool with built-in three ventilator fans. This is indeed an effective and practical indoor grow light for all the beginners out there.
More to love:
When it comes to coverage, not all small grow lights are as effective and efficient as the G8 240 LED grow light. It can easily cover a 3 x 2-foot area because of its brilliant optimized light bands. These bands stay the same and functions very well between bloom and veg stages. Also, the lights of this unit can evenly penetrate 5 feet beneath the canopy. What most people love about this is that despite its minute size, it is very effective as a grow light producing high-quality light while being power efficient as well.
We truly appreciate its low energy consumption. This is because it saves money and can effectively improve your cannabis and the environment in many ways. Strength, durability, and efficiency is also not a problem when it comes to the G8 240. Despite its small size, it is a big one when it comes to growing when it comes to growing weed. And because it is smaller, the G8 240  does not need any additional equipment to run. In addition, it occupies less space for a less hassle smaller indoor weed growing.
Brands behind the G8 LED Grow Light
G8LED grow lights are smartly designed with LEDs which are manufactured by famous manufacturers such as BridgeLux, Epistar, and Optotech.  BridgeLux has been praised by the San Francisco Business Times as one of the regions fastest growing privately owned companies. Being connected and associated with a company that is producing such strong headwinds is a big plus for G8LED grow lights.
A great collaboration for a great product indeed. G8LED also proudly includes Epistar as a manufacturer of LED chips that are incorporated into their indoor grow lights.  Epistar is also yet another large and famous corporation known for manufacturing great LEDs. Researchers at Epistar have been working on brilliant ways to continually increase LED chip efficiency. Researches conducted at the Epistar company has led to LED efficiencies.  These have allowed products to utilize their technology for a longer period of time.
More:
Another brand incorporated into the G8 LED indoor grow lighting system is Optotech. It is another known manufacturer that works on LED chips. Their LED chips are commonly used in many digital screens or displays. Also in computers, indoor and outdoor lighting as well as agricultural lighting.  Optotech has decades of manufacturing and sales experience. They are committed to working to be able to provide innovative and high-quality products. The light emitting diode or LED is one of the company's primary products.
More than that, their LED's are made and designed to cover the full spectrum of light. G8 LED grow lights utilize and only use LEDs from manufacturers that are known and well grounded. They also choose those who are experienced in research. Of course, also those who have been in the LED business collectively for so many years. This makes G8 LED very reliable with very efficient and effective products when it comes to an indoor weed growing, especially if you would like to minimize bad odors.
Growing with G8 LED – Summary
G8 LED was started and initiated by brilliant electrical engineers. These engineers took interest in becoming indoor growers. They even took their industry experience and applied it to the science of indoor growing. They made their design go through several iterations over eight years. In order to create and bring the most innovative and effective indoor grow lighting technology in the highest yielding grow light system.
The G8LED indoor grow lights come in different sizes. They also come in a couple of variations to give customers flexibility in their grow room designs. G8LED indoor grow lights boasts uniqueness in their design. For example, the G8-600 Veg/Flower is a powerful indoor growing light system with the growing power of 1,000W of HID lighting while only using 390W of power. The G8 600 uses G8LED technology to produce high-quality buds while operating at low temperatures. The G8-900 LED indoor grow light is the most well-loved by many commercial growers. On the other hand, the G8 450 LED grow light is the most used by the occasional or hobby growers. The company is based and stands on the belief that the customers' needs are of the utmost importance.