One of the most popular light types to use when growing plants indoors is a full spectrum LED grow light. These lights feature all the needed colors (such as blue and red) that plants need in order to survive when grown indoors. Besides these though, full spectrum lights also include IR and UV bulbs which help with the blooming and flowering stages of your plants. This article will highlight some of the top LED full spectrum grow lights you should be using in your growing space.

The Top Five LED Full Spectrum Grow Lights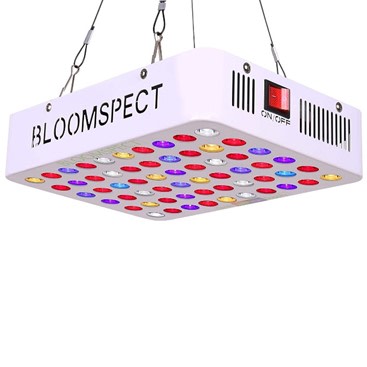 This 300W grow light can run for up to 100,000 hours. It features LED lights that have a secondary optical lens. This lens has a 90 degree angle and is intended to help the grow light increase its light and PAR power. The Bloomspect LED Grow Light comes with many different LED light shades of blue, red, and white colors.

To prevent overheating it has a heat sink built into it. There are also fans this model uses to help keep this grow light cool. On the side of this grow light you'll find an on/off switch. On the top is a daisy chain outlet and an input plug. This model is perfect for all growth stages and can even be used with hydroponic systems. It's ideal to use in growing spaces that aren't bigger than 3 ft. x 3 ft. This will help to ensure it works to keep all of your plants evenly warmed. At 5 lbs., this grow light isn't very heavy which helps to make it easier to transport around. The Bloomspect LED Grow Light comes with a hanging kit to help you hang this model over your plants.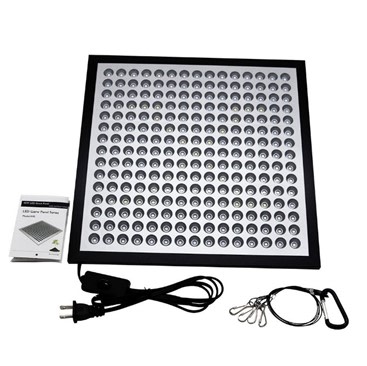 This grow light runs on 45W and features over 225 LED lights. You'll find a full spectrum with these lights (like red, blue, and white) and even IR and UV bulbs. This 6 band LED light has a 60 degree reflector which will help to shine the lighting evenly on your plants.

The aluminum housing and heat sinks of this product will help to keep this grow light cool while it runs. These will help to ensure that the grow light doesn't overheat which could otherwise not only damage your grow light, but also your plants.

This model has an on/off switch conveniently located on its 5 ft. power cord. This grow light weighs only 2.1 lbs. and comes with an aluminum hanger and 13 inch steel wire. This model is great to use for all growth stages and is perfect for those who have a small to medium size growing space.


This 45W grow light comes with 225 pcs LED lights. These lights include various red, blue, and white spectrums. There are also 2 pcs UV and 4 pcs IR lights. These lights will help to encourage your plants to bloom and can even work to help keep your growing area sanitized by preventing harmful bacteria from growing and spreading. The LED lights have a 60 degree reflector.

This model is made with an aluminum housing which will help to keep this grow light cool when running. However, there are no fans built into it. To turn this grow light on, you can use the on/off switch which is located on its power cord. This model is not waterproof so it's not ideal to use with hydroponic systems. If you have a small growing space and want an affordable and easy-to-use grow light, this is definitely one you'll want to check out.

If you're looking for a powerful grow light, this is one model you'll want to consider using. The SYGAVLED Grow Light runs on 300W and has a full spectrum. These LED lights are made of EpiLED and BridgeLux LED bulbs which are specially made lights. These lights include a chip zener in them and can run for up to 100,000 hours. To prevent overheating from occurring, it has an aluminum heat sink and fans built into it. These fans can run for up to 70,000 hours.

To turn this grow light on, you can use the power switch which is located on the top of this model. Also included on the top are a daisy chain outlet and power inlet you can use. This model can be used with hydroponic systems and works best in growing spaces that measure 3 ft. x 3 ft. This grow light comes with a hanger and can work in growing areas that get no hotter than 104 degrees Fahrenheit.

The Juhefa LED Grow Light is a small and portable option that's ideal for seedlings. On the bottom of the grow light you'll find a clip. You can use this clip to secure the grow light to a table or to the edge of a hydroponic system. The grow light features 60 small LED lights that will emit red, white, and blue colors. You can adjust the the intensity of the lights with the help of a built-in switch. This switch lets you choose from five different light levels depending on your plants needs. There's also an on/off timer that you can set so that this device automatically turns itself on or off at a certain time. If you need to turn the lights to a different direction, you can easily do so thanks to their 360-degree rotation neck. You can charge the Juhefa LED Grow Light with the USB cord that comes with it.
Benefits of LED Full Spectrum Grow Lights
They Can Be Hydroponic-Friendly
LED full spectrum grow lights are usually hydroponic-friendly. You can safely use these grow lights with these systems. This way, you can quickly and safely grow hydroponic plants.

Insider Tip: these hydroponic nutrients will super boost your growth of marijuana leaves
They are Durable
One of the best aspects of LED full spectrum grow lights is that they are durable. Most are created with thick plastic or aluminum housing. This ensures that should they accidentally drop or get hit, they won't break. The durability also makes your investment worthwhile because you won't have to keep investing in new LED grow lights.
They Don't Overheat
A common problem of grow lights is that they overheat. This is because you have to keep them on for a long period of time. While it might not seem like a problem at first, a LED grow light that overheats won't only be a fire hazard, but could destroy your plants. The good news is LED grow lights don't overheat. They are designed to evenly distribute light. Most also come with impressive safety features, like an automatic shut-off setting if it senses too much heat.
They Increase Plant Growth
You'll also find that LED full spectrum grow lights will increase plant growth. Because they contain a full spectrum of light, they're able to help your plants in all of their growth stages. This way, they'll not only grow quickly, but be free from many health issues, like white powdery mildew and bud rot.
They Come in Different Styles
Another interesting benefit of LED grow lights is that they come in different styles. You'll discover everything from a large hanging grow light to small clippable ones. Thanks to all of these styles, you can find the perfect one for your growing needs.
Features to Look for in a Full Spectrum Grow Light
There are a few features you'll want to look for in a full spectrum grow light before buying one. Here are few to keep in mind.
Chip Zeners
Chip zeners are intended to help make sure that your grow light is constantly working, even if one of the lights burns out. These are very helpful as they will keep your grow light running even when a bulb dims or burns out. While you'll eventually need to replace the bulb, chip zeners will keep your grow light running well and without problems until you do.
Fans
As with any grow light, fans are crucial. While LED lights don't get as hot as other grow lights types they still emit a lot of heat. Fans in a grow light system can help to keep everything cool so there's no overheating and burning. A grow light should have at least one fan, but some do come with more. The right amount of fans really depends on your growing space and how big your grow light model is. Sometimes a larger model needs a few fans in order to prevent overheating from occurring which is why it's very important to keep the dimensions of your growing space and grow light in mind before investing in one.
If it Has Aluminium Housing
To help keep things at a comfortable temperature in your growing space, you'll want to look for a grow light that has aluminum housing. Aluminum housing with grow lights helps to keep the lights from overheating which can not only affect your plants, but can ruin your grow light system. An aluminum housing keeps things cool and is fine to touch even when the grow light is running.
Reflectors
Some grow light models will come with reflectors. You'll find various angles these reflectors have which are intended to help cover your plants in warm lighting and help to better mimic sunlight. Reflectors are a feature you'll definitely want to look for because they'll help your plants to grow well and make sure your growing space is a comfortable environment for your plants to grow in.

If the LED Grow Light is Hydroponic-Friendly
As mentioned above, most LED grow lights are hydroponic-friendly. However, not all are. Because of this, if you invest in the wrong type, you might find that it doesn't help your plants or might short-circuit if it touches water. To see if a LED grow light is hydroponic-friendly you can check a few things. One is if the device is waterproof. If it is, the grow light will work safely around water. You can also tell if one can work with hydroponics by checking its size. Usually, small LED grow lights are designed to be used in hydroponic systems. This is because they can cover the area better than a larger model.
The Color Spectrum of Grow Lights
As mentioned above, full spectrum LED lights are exactly what their name implies, they have a complete spectrum of colors. You'll find the necessary blue, red, and white bulbs, but full spectrum includes many different shades of these colors. This can help the lights to better imitate sunlight.

However, besides the different colors, full spectrum LED grow lights also have UV and IR bulbs. These are very important and helpful bulbs that not many grow lights have, which is why full spectrum grow lights are great to invest in. Ultraviolet lighting (UV) helps your plants produce more cells. This in return helps them to produce a higher THC level in them. Infrared lighting (IR) has been proven to help increase the growth of plants. Both of these combined can end up being very beneficial for your indoor plants.

Their Power
These lights can get to be very powerful. You'll find many different wattage amounts you can use depending on the size of your growing space. It's important to keep in mind that these are powerful which means they could be overwhelming in some growing spaces if you invest in a grow light that emits too much heat for your specific space. For this reason, it's crucial to make sure you invest in a full spectrum grow light that has a wattage amount that will work well in your growing space.
Conclusion
This article showcased some of the top LED full spectrum grow lights. While they all are made with a similar purpose, they each have their own unique features which is why it's important to be very careful when choosing a grow light for your growing space. Full spectrum LED grow lights are a great way to help produce large and healthy plants. The high-quality models highlighted in this article are definitely ones you should consider using in your growing space.