If you are looking for a weed costume to dress up as in the coming Halloween or to a costume party, you came to the right place. This article is all about weed costumes.  If you are one of the countless people all over the globe who grow weed, use weed, or have supported the legalization of cannabis, we hope you enjoy this guide. May you find the best blazing weed costume to sport.
Top Hallo-weed (Halloween) Costumes
If you are looking to spice things up in the coming Halloween costume party, consider dressing up in a cheeky homage to weed. It would be a lot more interesting than going with the typical ghost or vampire. A weed costume, on the other hand, would be blazin'.
Here are some of the most popular and most creative weed costumes you can buy online.
Starting off this list is the very literal type of weed costume. Fun World's Ganja Man costume is guaranteed to get your friends clutching their sides with its sheer absurdity. You'll be the life of the party for sure!
This weed costume is rather simple but effective. The Ganja Man costume includes a large plastic ganja (another word for 'marijuana', of course) leaf you wear over your body, a sign you can carry around that says "Legalize," and pot leaves for ankle bands.
Fun World's Ganja Man costume is an adult sized costume. It is a one size fits all type so you do not have to worry about accidentally ordering the costume as too small or too big size.
All you need for this weed costume is a plain, all black outfit and you are good to go!
Technically, this is not really specifically weed costume or even a Halloween costume at all. But, you have to admit, the grassy green design of this hunting suit looks a lot like a huge nug of marijuana.
The VIVO Ghillie Camouflage Forest Suit is unmistakably a weed costume in a Halloween party. it is not as flashy as dressing up as a single leaf of marijuana but it is still really funny.
And if you get this suit, you can use it even after Halloween. If you are ever planning to go hunting or just want to play a prank on your unsuspecting friends or family, you can use the Ghillie Camouflage Forest Suit.
For a classier way to show your support for weed, why not go for a sharp looking suit with marijuana leaf print? Forum Novelties gives us the Joint Venture Cannabis Suit that will give you a more sophisticated and stylish look this Halloween.
It is widely known that marijuana lovers are not just the stereotypical deadbeat hippies that mainstream media have consistently shown us. Everyone knows that people from all walks of life have grown to love weed and aren't ashamed to admit it. We are talking professionals, artists, even businessmen. This Joint Venture Cannabis Suit can show that the market for cannabis has drastically evolved.
The suit itself is dark green and the cannabis leaf print is this bright green that will definitely get people's attention. This weed costume will work great if the party has a fairly strict dress code. You will be the ultimate canna-boss!
Bonus:
To give your suit a little more glamour, why not get these pot leaf sunglasses as well? Go big or go home, right?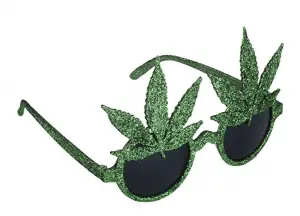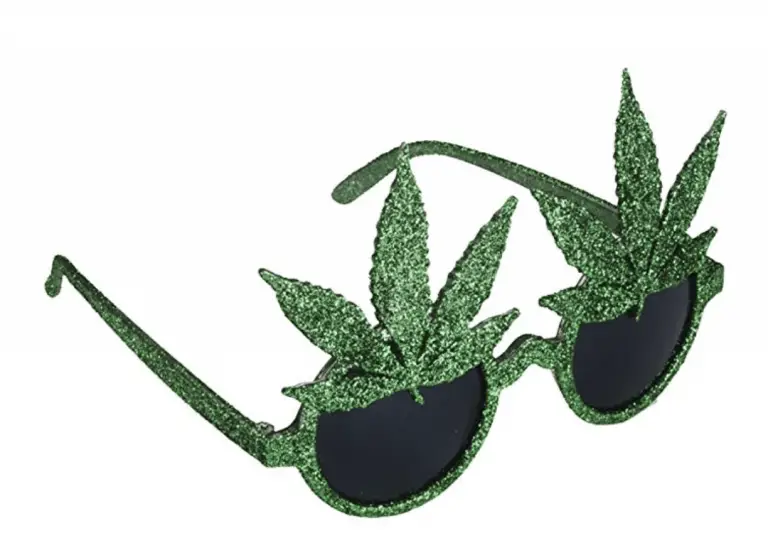 If you are not really that into wearing a full costume, you could go for a simple but still hilarious weed costume. Be a literal "pothead" with the LOL Lidz Funny Hookah Reefer Party Hat. It is easy to wear and does not require much so it's the ideal minimalist weed costume.
This costume is just a foam hat in the shape of a terracotta pot. It is soft too so you can wear it all night comfortably. This hilarious pun costume is going to be a riot at parties.
Look out Superman, Weed Man's in town! Cannabis is known for its multitude of health benefits and although gaining super powers is not one of them, this weed costume will make you feel otherwise.
Elope's Weed Man Costume includes a green cape, a hero mask, felt cuffs, and a felt leaf. You will need to supply your own long sleeve shirt and pants but your old pair will do just fine.
Be the hero that your stoner friends deserve this Halloween!
Want to be a huge hit of the party? You can dress up as a giant spliff or joint with the Rasta Imposta Spliff Costume.
This giant weed costume is a white one piece tunic that you can wear all night without getting weighed down. It is light and easy to move around in (though you might want to watch out for low doorways).
When you can be anything, why not be a bag of weed? This weed costume is simplistic but still incredibly hilarious.
This costume is a printed tunic that resembles a giant bag of weed. That's it. A minimalistic weed costume perfect for a wacky, comical party.
Make way for the pirates of the cannabis! This swashbuckling weed costume is super fun and incredibly easy to wear. Forum Novelties Men's High Seas Cannabis Pirate Costume will let you live out your dream of adventuring the seven seas.
This weed costume includes a dark green headscarf with marijuana leaf print, green long sleeve shirt with attached vest, and a dark green waist sash also with marijuana leaf print. Pair this costume with dark loose pants and you are good to go!
For a more authentic look, you can also get these pirate boot tops from Forum Novelties.
Do not think we have completely ignored the ladies. Weed costumes for women are just as hilarious and creative as men's, if not more. Not to mention, there is more variety in ladies' weed costume. For instance, Forplay Women's Way Up is a sexy jumpsuit with marijuana leaf print. It is chic and hilarious!
This ladies' weed costume is a two piece jumpsuit that also comes with a dollar sign necklace as an accessory. Forplay Women's Way up is a tight costume that you can wear at a party and turn heads all night.
It might be a simple weed jumpsuit but it is guaranteed to be a great costume.
Everyone loves a good brownie, right? Dressing up as a weed brownie baker with Forum Novelties Women's Brownie Baker Cannabis Costume will definitely score you some brownie points at any party.
In this cute and sexy brown and green mini dress (with marijuana leaf accents), chef hat, and apron with the words "Brownie the Baker", you will look absolutely alluring. Bring a tray of edibles with you and you will be the life of the party.
Want something more daring? Why not consider dressing up as the famous Batman villain Poison Ivy? And by 'ivy' we mean 'cannabis'. Fest Threads' Poison Ivy Villain Marijuana Romper reimagines the classic DC villain as a lover of weed. This alluring ensemble will be the talk of the party for sure!
This weed costume is a strapless romper with marijuana leaves print and a green sequin mask. Its simplicity is quite sensual not to mention leaves ample room for creativity and personal touches.
Slay the night away with this sexy weed costume!
Sailing the high seas is not just for men. Forum Novelties also offers a Women's High Seas Cannabis Pirate Maiden Costume that can be paired with the Men's version. You and your partner can even come as hilarious weed pirate couple.
Be an ultra stylish pirate maiden with this weed costume. It comes with a hat with bright green faux fur trim, a sheer green peasant top, a black corset belt, a marijuana leaf print skirt with attached lace and tulle crinoline, and a pair of boot cuffs.
Fun, sexy, and comical, this pirate maiden weed costume will make quite a splash at any party.
Everyone pretty much knows that sexy nurses are a staple at any Halloween party. So why not mix it up a little by going as a sexy nurse advocating for weed?
Educate your peers at the party of the benefits of weed while wearing Dreamgirl Women's Nurse Anita Reefer Costume. It is a super hot, super chic weed costume for all the ladies out there who have always had a thing for the medical profession.
This five piece costume comes with a white dress with green accents, white stockings with green topper bow pins, a belt, a nurse's hat, and a nameplate. The skimpy outfit might not be a regulation nurse's uniform but we're sure no one will mind too much.
And for the men's version, there is this hot weed doctor costume still from Dreamgirl.
Though not as meticulous as the sexy nurse's costume, this weed costume is still quite the outfit. It is a men's white lab coat with a green print on the front that says "No Weed, No Problem," and on the back has a large "Cannabis Dispensary" logo. Pair this with black slacks and black shoes and you are good!
The Tigerdoe Pot Head is designed to look like a flower pot but with the words "Pot Head" slapped on the front with a logo. This funny play-on-words costume is perfect for those who want to dress up but don't want the hassles of having to put an intricate costume on. It's a one-size-fits-all option and a very affordable one as well. The hat is also comfortable to wear and features a plush material to help make it fit snugly on your head.
This spooky mask is a large face covering that will hide your face behind a weed leaf that is smoking a joint. The mask has small eye holes so you can see out of it although these can sometimes be a little difficult to adjust to. The mask is also made of latex so if you're allergic to this material you'll want to look for another option.
This artificial weed lei by BOSHENG is filled with plastic weed leaves you can wear around your neck or add to another costume. This costume accessory is ideal for those who might be throwing a party as it comes with 30 leis you can hand out to guests. The 40-inch leis are soft so they won't be irritating to wear.
This unique costume by Forum Novelties comes with a black apron and chef hat that are covered in pictures of weed leaves. Made of a soft polyester material, this costume is easy and comfortable to wear making it perfect for those who plan to be partying for a while. This product comes in a one-size-fits-all option.
…and for weed lovers who do not want to dress up
Are costumes just not your thing but you still want to wear something that showcases your love and pride for cannabis? Here are just a few casual weed costumes you can wear either at a Halloweed party or just a regular party.
A simple but comfortable hoodie with the words "Go Green" and a single marijuana leaf print is all you really need. Go All Out offers this hoodie in a multitude of colors so you have plenty to choose.
Stay warm and comfy with this weed hoodie.
For a little bit more flair, why not go with a tuxedo weed shirt? This simple t-shirt has a tuxedo print on it that give you a little class while still appearing casual and comfortable.
This shirt is perfect for those who don't want to dress up. It comes in white and yellow color options and features a smiley face, but with weed leaves as the eyes. The shirt is made of a comfortable mixture of cotton and polyester and comes in both men and women sizes. When you're done wearing it at the party, you can easily wash it, although make sure to do so on machine wash cold.
Weed Dresses
For the ladies out there you can choose a variety of summer dresses with a marijuana leaf theme. Awesoh's two piece weed top and skirt is cute, casual, and comfortable. This outfit is great for those hot summer nights and perfect for blazing it.
SAFJK's one piece elastic summer skater weed dress is also a great choice. It is snug and cool. Plus, you can wear it in any other occasion, not just Halloween. You can rock this skater dress and accessorize it with other weed-y gear.
Or, if you prefer a more colourful dress, CowCow offers a variety of sleeveless weed print dress that come in all kinds of fun and imaginative designs.
Weed Costume for Dogs
Lastly, for your lovable canine companion, you can dress him or her up in a Rasta dog costume, proudly resembling the iconic singer and Rastafarian prophet Bob Marley. This weed costume includes a tie dye shirt and colourful hat with fake dreadlocks.
Your precious pooch will look absolutely adorable in this Rasta dog costume!
Another cool pet weed costume to consider dressing your furry friend in is this dog weed jacket. Made of a soft cotton material, this jacket comes in color choices such as black, yellow, ash, and blue. On the top of the jacket you'll find a weed leaf with a rising sun behind it. This costume is ideal for small to medium-size dogs and is easy to put on and take off.
The Perfect Blazing Hot Weed Costume
Is it Legal?
Smoking pot or marijuana has gotten more and more popular nowadays. Dozens of countries have either legalized the drug or decriminalized it. It has made recreational marijuana use not a punishable offense anymore. In fact, even several states in the USA have legalized weed despite the country's tumultuous history with pot and other drugs.
Though the debate for further legalization of weed is still ongoing, smoking weed is not nearly as vilified as it was some decades ago. Countless people around the world are now proud to admit to using marijuana. Celebrities and other famous personalities have even come out to support the campaign to legalize cannabis. And considering the long list of benefits of cannabis, it is not too difficult to see why so many have grown so fond of it.
So, to sum it up, yes, marijuana is legal in many countries, but you still have to be cautious as some areas might not legally allow you to enjoy it.
What's A Weed Costume?
Now that Halloween is just a few short months away, stoners and potheads can show their pride by wearing the perfect weed costume. It is not a new concept, wearing a weed costume or a weed-inspired costume. Two years ago, Game of Thrones stars Maisie Williams and Sophie Turner shocked and delighted the internet when they wore matching "hash brownies" girl scout uniforms. It was a clever and creative pun on cannabis and it definitely put an interesting spin on girl scout cookies.
Halloween has always been a favourite holiday for many since it provides them an opportunity to dress up as something or someone incredibly outrageous and not get judged for it. For some, it is the perfect time to express their love for marijuana with a funny and playful weed costume.
Why Wear a Weed Costume?
So, why spend your time and money on wearing a weed costume for a party or Halloween? The answer is that it's just fun to do, especially if you're a weed lover! Wearing a weed costume is sure to surprise many and you probably won't have to worry about someone else wearing this unique option. It can also display your interest in weed and could bring up some interesting conversations as well. Better yet, they are very affordable and creative making them perfect to invest in.
Why People Love Marijuana
Despite the fact that recreational use of marijuana is still illegal in most parts of the world, smoking pot is still extremely popular. All kinds of people – not just young hipsters or the stereotypical bums – love pot. No matter how much authorities and the media stigmatize cannabis, people will continue to smoke weed.
Why?
Because, unlike the harder, synthetic drugs out there, marijuana has a litany of benefits that tremendously outweigh its disadvantages.
Safe and all natural
Marijuana comes completely from the cannabis plant so it is 100% organic. This makes it so much safer than synthetic drugs. In fact, unlike other recreational drugs, overdosing on marijuana is extremely rare. However, this isn't to say that marijuana doesn't have side effects. If you smoke too much, especially if it has THC, it could cause you to hallucinate or become very sick. Because of this, you want to be careful when smoking it.
Medicinal properties
It is quite common knowledge that marijuana can be used for medical purposes. Although, some agencies are still debating over the positive health effects of cannabis. There are still people who have resorted to taking marijuana for physical and mental ailments.
For Relief
Marijuana can prove pain relief for a number of diseases like glaucoma and migraine. It is also effective for movement disorders like Parkinson's, Tourette's, and Huntington's. Marijuana can also aid people suffering from epilepsy, multiple sclerosis, and spinal cord injuries. This is because it helps to calm the body's nerves down as well as reduce inflammation in the body which can be the source of many health problems.
For Mental Health
Cannabis is also known for helping people with mental disorders. Depression and anxiety can be alleviated with the help of marijuana. Weed can even help those suffering from eating disorders since it can stimulate appetite.
Cannabis is able to help with this area because it works to calm the brain's receptors with its many cannabinoids which can make the body overly alert if you're stressed or anxious. While studies are still being done to show any extreme mental health benefits, cannabis has been proven to help provide short-term relief to those suffering from mental health issues.
For Cancer
Let us also not forget to mention just how much medicinal marijuana can help cancer patients going through chemotherapy. Chemo is an extremely painful cancer treatment and weed can help alleviate the pain the cancer patient feels. It works to stop nausea cancer patients often experience due to their pain and medications. It also helps to reduce inflammation and even shrink tumors. Basically, cannabis is incredibly helpful for people suffering from chronic pain.
Helps those with insomnia and nightmares
Another benefit is that marijuana can help you fall asleep. And not just any type of sleep. Weed can put you into a nice, peaceful sleep with no dreams or, more importantly, nightmares.
This is especially useful for those who suffer from nightmares like people with post-traumatic stress disorder. Marijuana suppresses your brain from REM sleeping, the type of sleep where you experience dreams.
You can enjoy a good night's rest with weed.
Makes you more creative
Weed is extremely popular in creative circles since it helps people think outside the box. People in the creative industry – music, literary, media – are constantly struggling to come up with new ideas. And when it is your job to think creatively 24/7, your creative juices are bound to dry up.
Marijuana is known to help people come up with concepts that they had previously never even thought of. It helps creative people connect vastly unrelated ideas until they can come up with something original.
In an industry that demands for new and creative ideas all the time, marijuana can seriously help people from burning out.
Keep calm
Probably the most popular effect of marijuana is to make people feel relaxed and calm. For people with high stress jobs, relaxing can be a bit of a struggle. Weed can help uptight people unwind.
Stress is seriously unhealthy to the body and you should always find time to calm down and relax. Smoking pot can alleviate stress and make you healthier.
No hangovers
Unlike alcohol which can make you feel like death incarnate the morning after a night of heavy drinking, you will not suffer a hangover no matter how much pot you smoke.
You can enjoy your pot session without having to worry about going to work completely waster the next day.
Say goodbye to period pains
For women worldwide, menstrual cramps are the bane of their existence. Some ladies get cramps so bad that its fully debilitating and they can't function properly for a few days.
Marijuana can now help alleviate pesky period cramps that plague women every month. In fact, multi award-winning celebrity Whoopi Goldberg opened her own company that sells medical marijuana specifically to treat menstrual cramps. What's more, Goldberg's products do not have psychoactive effects. Therefore, women can take the period pain pot and still go to work with a clear head.
Help control weight and sugar levels
Recent studies showed that cannabis could help improve a user's metabolism and sugar reaction.
Researchers noticed that most people who smoked weed tend to be quite lean. It is believed that cannabis users have better blood sugar levels and a healthier metabolism due to the drug. Although it is known that potheads get the munchies after a hit, they are still not at risk of obesity.
Cannabis could help people with obesity and diabetes. In fact, new research has shown that those who smoke pot are more than likely at a healthy weight. This is because it helps to maintain a healthy body mass index and prevent you from having the urge to constantly eat.
Help recovering alcoholics
Alcoholism is categorized as a genuine disorder and those fighting it need as much help as they can get. Though marijuana is not completely risk-free, it is still a safer alternative to drinking alcohol. There are less side effects and physical damage, at least.
Besides being a less damaging substitute, cannabis is also reportedly less likely to cause withdrawal issues.
In moderation and with responsible use, marijuana can aid in reducing alcohol consumption.
Final Thoughts
It is clear that marijuana is slowly gaining widespread public acceptance. Although, there are still those who oppose legalization and decriminalization of the drug. However, people are now less hesitant to come out and admit that they use and love cannabis. Smoking weed has a ton of benefits and no matter how hard certain conservative organizations try to stigmatize cannabis, people still know how much marijuana can help people.
Wearing a funny weed costume to a party or a parade or just a gathering of some sort might not solve the entire conflict surrounding the acceptance of marijuana but it can show the world that everyday people wholeheartedly support the use of the drug.
Plus, you have to admit, a weed costume is still pretty funny. If it will not start a conversation, it will at least earn you a few laughs.